Details
Il convegno "EU-US Young Leader Seminar" (YLS) si tiene 
ogni anno nel mese di aprile
, e riunisce a Bruxelles 
50 giovani europei che hanno ottenuto un successo professionale particolarmente significativo già dalle prime fasi della propria carriera
. Quest'anno il convegno si terrà dal 15 al 17 aprile, ed i giovani selezionati si troveranno a discutere le prospettive sull'evoluzione del lavoro con particolare riguardo alle "capacità digitali", fornendo così, "di prima mano", alla Commissione Europea degli elementi utili a forgiare le future politiche per il lavoro comunitario.
Details
We are very happy to announce that Prof. Fabio Dell'Acqua has recently received the national Italian habilitation to full professorship. We congratulate with him for this great achievement, and hope there will be soon the possibility to exploit this habilitation.
Details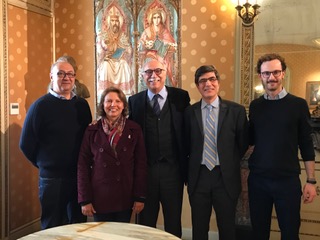 Prof. Maria Valeria Costa Correia, Rector of the Universidade Federal de Alagoas (UFAL) in Brazil, visited the University of Pavia on last Thursday, March 8. She met our Rector Prof. Fabio Rugge, in order to strengthened the connections between Pavia and Maceio. She also taught a seminar about the privatization of the public health system in Brazil. Her visit has been possible thanks of the cooperations between UFAL and UNIPV through the EOXPOSURE project led by Prof. Fabio Dell'Acqua, and the visit by Prof. Frery, Vice Rector for Research at UFAL, who came to Pavia during the past week.
Details
Our post-doc Andrea Marinoni (see this article in Italian) has been awarded a grant (called "Progetto professionalità Ivano Becchi") by the Fondazione Banca del Monte di Lombardia. This is an award for brilliant researchers, designed to promote research works with practical applications. Andrea will go visit the Jet Propulsion Laboratory of NASA working on more advanced techniques to extract pollutants from satellite and ground-based measurements. Congratulations to Andrea for the excellent result!