Details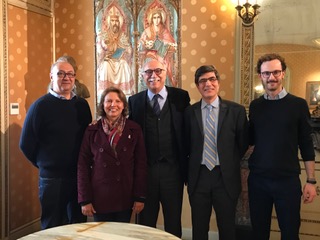 Prof. Maria Valeria Costa Correia, Rector of the Universidade Federal de Alagoas (UFAL) in Brazil, visited the University of Pavia on last Thursday, March 8. She met our Rector Prof. Fabio Rugge, in order to strengthened the connections between Pavia and Maceio. She also taught a seminar about the privatization of the public health system in Brazil. Her visit has been possible thanks of the cooperations between UFAL and UNIPV through the EOXPOSURE project led by Prof. Fabio Dell'Acqua, and the visit by Prof. Frery, Vice Rector for Research at UFAL, who came to Pavia during the past week.
Details
Erasmus Plus (E+) è il programma dell'Unione europea per l'Istruzione, la Formazione, la Gioventù e lo Sport 2014-2020. Il programma è gestito dalla Commissione europea, DG Istruzione e Cultura, in cooperazione con gli Stati Membri, con l'assistenza dell'EACEA, Agenzia esecutiva per l'istruzione, gli audiovisivi e la cultura e delle Agenzie nazionali dei diversi paesi partecipanti.
Details
Dopo aver selezionato 14 nuovi FabSpace in vari paesi in tutto il mondo alla fine del 2017, il progetto FabSpace2.0 ha ufficialmente inaugurato la prima attività compartecipata dei 14 nuovi FabSpace durante il workshop FabSpace2.0 su "Sharing Practices To Spread the FabSpace Spirit". Il workshop si è tenuto il 31 gennaio scorso, presso il Centro per l'Innovazione e la Gestione del Trasferimento Tecnologico dell'Università di Varsavia in Polonia. Tra i 4 nuovi FabSpace italiani anche quello che fa base al Laboratorio di Telecomunicazioni e Telerilevamento presso il Dipartimento di Ingegneria Industriale e dell'Informazione dell'Università di Pavia.
Per maggiori informazioni... http://news.unipv.it/?p=28677
Details
After having selected 14 new FabSpaces in various countries worldwide at the end of 2017, the FabSpace 2.0 project officially inaugurated the first joint activity of the fourteen new FabSpaces. This happened during the FabSpace 2.0 Workshop on Sharing Practices to Spread the FabSpace Spirit, which took place in Warsaw, Poland, on the 31st of January. The workshop was held at the Centre for Innovation and Technology Transfer Management of Warsaw University of Technology. Among the newly admitted FabSpaces, our lab was represented by Fabio Dell'Acqua, who presented our activities and envisaged how the FabSpace network will further boost the lab commitment to technological transfer and innovation in space-related technology.